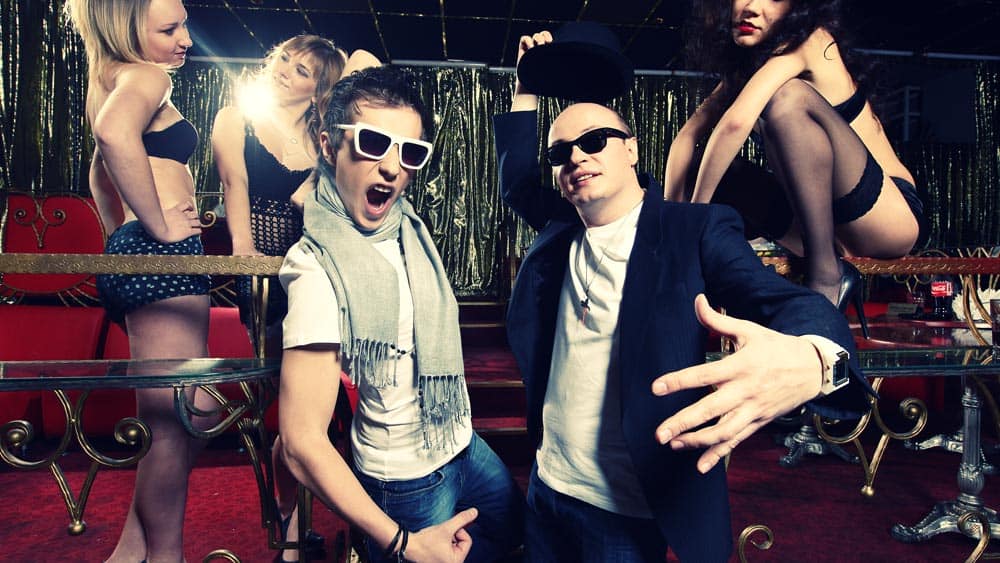 Barely a month since their epic performance at the Ultra Music Festival 2013 Main Stage, there are plenty reasons why we got excited to talk over some liquor with Hard Rock Sofa on their maiden India Tour.
Alexander and Denis, came forward as very quiet personalities until they showed us how crazy they can get during the shoot of the official after movie by our production team.
Their track 'Here We Go' was also another catalyst that added to the formidable turnout at both the Delhi & Mumbai gigs. Being part of the famous Hollywood franchise 'Fast and The Furious 6′ soundtrack, Alex & Denis had just as many reasons to claim the rightful throne of being the 'Real Russian House Mafia'.
Alexander and Dennis, welcome to India. How does it feel to be here?
Alexander: Thank you
Denis: Thank you. We're feeling good because it's our first time in India so we're so excited about all the parties here. We got some great crowd at Delhi yesterday and we already see the club packed today at Mumbai.
What were your expectations from this tour? How has the response been so far?
Denis: The first time I saw our twitter like 2 days ago, I got so many tweets from our Indian fans and this is actually good. So it's a great with great crowd. It's just exploding right now in India.
Starting off in 2005, how did the project of Hard Rock Sofa come into existence? And how did you guys meet?
Alexander: We met like 8 years ago. Vadim of Swanky Tunes is my cousin and is Denis' good friend. That's how we both met. Vadim and Denis were good friends since like 15 years or so. After Denis and me met, we got along pretty well and started 'Hard Rock Sofa'.
Denis: That time we just tried to do something altogether. After six months we decided to do a project, which was, as , Alex stated, 'Hard Rock Sofa'.
How did you decide the name? Why 'Hard Rock Sofa' ?
Alex: It sounds really original you know. But when we think about this, it's just like chilling on a Hard Rock Sofa. Everyone asks us about how and why we thought of the name. But the fans and the market love it.
Your track 'Here We Go' and some more are in 'Fast and Furious 6'. How does it feel to be associated with a very well known Hollywood franchise 'Fast and the Furious'?
Denis: We had never thought about movies initially. There was this day when Universal Studios contacted us to include our track in the movie's soundtrack. And we could not say no to that ! To top it, 'Here We Go' is exactly meant for Fast and the Furious.
https://web.archive.org/web/20130929055044if_/https://w.soundcloud.com/player/?url=http%3A%2F%2Fapi.soundcloud.com%2Ftracks%2F51240129
Who is your favorite character from the movie series?
Denis: Paul Walker!
Alex: It has to be Vin Diesel for me.
You guys have done a lot of collaborations with Swanky Tunes. How is it working with each other and what more do you have in store ?
Denis: 8 years ago we started working at their studio in our hometown. So now we have two studios , e have our own studio and Swanky Tunes have their studio. Sometimes we meet together to make something special, if we hear some idea we can show them and vice versa.
Alex: Because we are friends and live in the same city, our music is of the same mainstream so there have been a lot of collaborations and plenty more to look forward to in the future too.
Hard Rock Sofa with Swanky Tunes at the Ultra Music Festival 2013 Mainstage. Photo Courtesy : Rukes
Electronic Dance Music in India is exploding. What do you think about the EDM scene in India?
Denis: I think it started developing quite some many years ago because I have seen so many artists here like Axwell, Dimitri Vegas, Like Mike, Swedish House Mafia, Afrojack and more so it's a great thing . I feel it will only get bigger and bigger and be the most in demand market in the world for EDM.
What is Hard Rock Sofa's style statement? What kind of clothes are you guys into?
Denis: In Russia during the winter it's very cold so I wear jackets and warm shoes mostly. When I am on tour in a more warm area, I am usually happy in T Shirts like normal people. I however love Frankie Morello clothes.
Alex: For me brands like Gucci, Calvin Klein, Armani stand out. I love shopping but what I wear usually depends on the location of our event – Hot and Cold.
Do you co-ordinate before a gig what you're going to wear ?
Denis: So, as you can see I's wearing a whiteT-shirt and Alex has a black T-shirt on so probably its going to be complimenting colors.
What do you prefer to drink while DJ'ing live?
Denis: We prefer whiskey.
Alex: We're Russian but we don't drink vodka now you know. Every promoter asks us if we want to drink Vodka. They tell us we are Russian but little do they know the amount of overdose we have had over the years !
How was your experience at the Ultra Music Festival main stage, thousands of people and sheer quality production?
Alex: Miami is always crazy. Ultra Music Festival is probably the biggest in the world. Plus it's always Miami Music Week so everyone goes there.
Denis: Yes it is crazy. Big crowd, a lot of enery, amazing music. We played from 5-6 PM. We opened the party so at that time I think there were 20,000 people there which was pretty good.
Hard Rock Sofa at Ultra Music Festival 2013 MainStage. Photo Courtesy: Rukes
What message do you have for all the aspiring DJs, young producers and artists who want to make it to the top?
Denis: My personal advice would be to try and make something original and you'll be noticed definitely.
Alex: I agree with Denis. Don't copy any producers around the world just do your own stuff, spend your time in the studio. We've spend like 8 years already in the studio. It's a long way, be original.